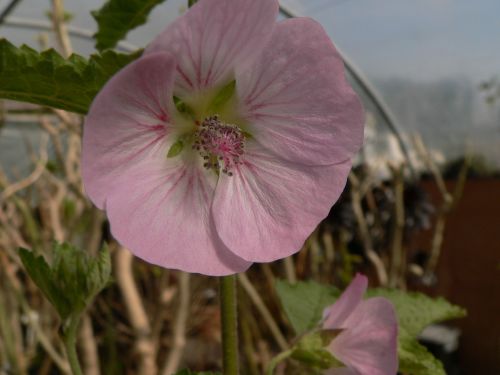 Sphaeralacea Hyde Hall
Shrub with downy leaves and silver pink flowers popular with bees
A woody shrub of the Mallow family. There is little information on the internet about Sphaeralacea Hyde Hall so the possibility exists that it is known as something else, however it is listed on the RHS names database with no alternative name.
I have had this for several years and bought it for it's slighty silvery downy foliage and silver-pink flowers. Flowers are 3cm across and produced for a long period but peak in May and are attractive to bees, many of which visit the back of the flower to get to the nectar.
Drought tolerant, good in poor, free draining soil and does surprisingly well in up to half shade although full sun is probably best. When planted in fairly rich soil it quickly achieved 2.4 m 8 feet in height but 1.8m seems pretty typical. Lack of flowers can occur at the expense of rapid strong growth in overly rich soil in which case do not feed and the problem should resolve itself.
Quite hardy probably good for at least -5c, perhaps more if kept from strong wind frosts. So a sheltered positon suggested.
This batch in half litre pots