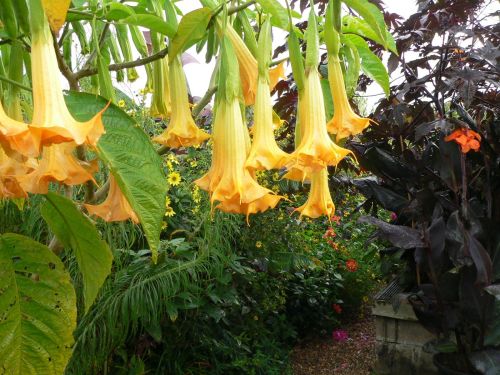 Brugmansia double orange
Angels trumpets. Very large hanging trumpet flowers. Heavily scented. Frost tender, easy care shrub.
Pot size 1/2 litre.
Brugmansia are a fast growing tender shrub needing a minimum temperature over winter of +0c. They are very greedy plants and thirsty too. In pot culture they will need watering at least once a day in high summer and on very hot days twice a day. Plants easily reach two metres tall in a season and if unpruned will reach up to four metres with a similar spread possible. Many flowers produced July - October. Here I have had over 50 flowers at once in early October on plants around 2m tall. Scent produced from late afternoon to early morning.They need a sheltered position from the wind which dehydrates the leaves.
You can hard prune your plant every autumn before bringing in to protect from frost. Cutting to what ever size you can manage down to, I would say, just a foot long stump if required. Here I trim to about 1.2m and trim the width to more or less the width of the pot which makes them easy to store. In the spring you can prune the roots considerably before repotting once you have reached the largest pot size you can manage and feed with lots of organic material and throughout the growing season with your fertilser of choice. You can see if it needs feeding due to paleness of the leaves which will turn yellow and drop quickly, if underwatered especially, but don't worry as the plant recovers it 's looks very quickly.
In summary they are quite resiliant and easy to grow and should be much more popular. A bit of air circulation helps in winter if stored in a damp environment to avoid mould but I have yet to loose a plant from this.