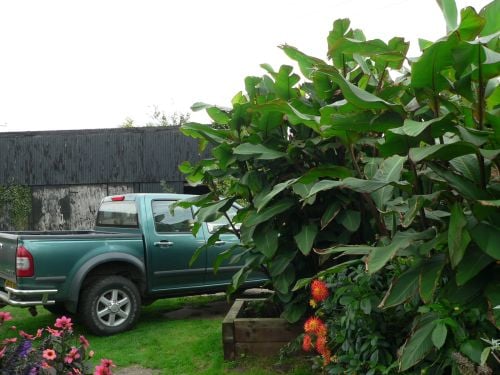 Canna musifolia grande
Large banana like foliage. Grows to 3 metres tall.
Canna musifolia grande, for larger pot sizes, 2 litre and 1 litre, check other listings in the online shop. Plants for £9 are good sized, strong growing and come in 1/4 to /1/2 litre pots.
Plants will need re-potting on arrival. All are home grown from my own parent plants. Rhizomes for £6 have ended for this season. A very fast growing large canna for an exotic look. Grow for large leaves and a height of 3 metres easily possible. Leaves have a maroon margin. Stems flushed maroon. The insignificant small orange flowers are rarely produced!
See Canna growing guide if you are not familiar with growing canna. If buying January-March you will need to grow on with some heat and light to intiate growth or the rhizome may rot. Dispatched weekly.